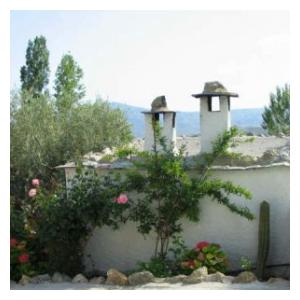 La Alpujarra, located to the south of Sierra Nevada, is one of the most characteristic regions from Granada. The beauty and contrast of its landscape, the structure of its villages and the hospitality of its inhabitants, together with its historic past where the Muslim culture is still present, make this a singular area. There are other important elements such as the gastronomy, local festivities (romerias towards the mountains as well as the Moors and Christians festivals), its handicrafts and contrasting weather that allows visitors to enjoy day trips or practice sports with a snow-covered landscape.
Although there are some theories about the origin of the name Alpujarra, we should highlight the one which establishes that this name comes from one of the first Muslim settlers in this region, "Albujarra". But the opinion of many philologists opts for the meaning "alba sierra" (dawn mountains).
The first village we find in the Alpujarra is Lanjarón, famous for its medicinal waters and one of the most visited spa resorts in Spain. Something which impresses travellers when they arrive at this region is the architecture of its villages, especially in Pampaneira, Bubión and Capileria, located on the ravine called Barranco del Poqueira. These are villages with narrow, winding, steep streets and used to snowfalls.  The flat roofs, typically called "terraos" are made of stone flagstone covered by "launa" (type of clay) with cylindrical chimneys on top. The private terraces full of flowers or "tinaos" can also be highlighted.  At the bottom of the Mulhacén peak you will find Trevélez which is one of the highest villages in Spain, well-known around the world due its cured hams.